Welcome back to Filmmaker Friday, where we celebrate members of the VIMBY nation and get to know them a little better.  Here we profile VIMBY vet, Portland's own Alex Thornburg.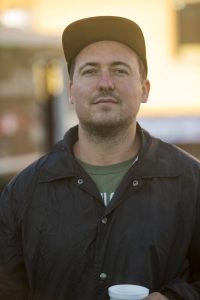 Name:
Alexander Thornburg
Hometown:
Boise, ID (lived in Portland, OR for 11 years)
Years working with VIMBY:
I've worked with VIMBY since the early days, back in 2008, just over 10 years ago.  Wow, I can't believe it's been a decade!
Favorite VIMBY production:
There have been so many I enjoyed working on, but the Eugene Rock the Space shoot is still one of my favorites because some of the VIMBY crew came to Oregon and the shoot in general was super fun.  When you're shooting from the roof of a fraternity mansion turned hippie commune toward another roof of another fraternity turned hippie commune that a band is playing on, and you shuffle up a ladder and past a sleeping rooftop hippie all while in an ankle cast, it's kinda hard not to have a smile on your face and a memory that'll last you a lifetime.
Favorite Thing About Being A Filmmaker:
That's a hard one.  My favorite thing is the flexibility I get in the rest of my life because I am a career filmmaker.  A more obvious and to the point answer: I simple LOVE shooting and the fact that I see the world in a different way than your average person. 
Most treasured piece of gear:
I should say my camera, but cameras change, and my 24-105 lens goes on every production with me. 
Most important item on set that isn't gear:
 M
y fannypack, or a PA's hands (to hold my coffee)
Favorite restaurant in my home town:
Kenny's Noodle House
If I wasn't doing this I'd be:
In a perfect world, I'd be traveling the world chasing storms and shredding 200 days a year instead of just 70+, but in the real world, I'd probably be a park ranger. 
Recent work I'd like to share: